Parts of Medicare
Medicare Part D
Medicare Part D is the prescription drug benefit offered through insurance companies as either a stand-alone plan or beneficiaries can choose a Medicare Advantage plan that also features prescription drug coverage.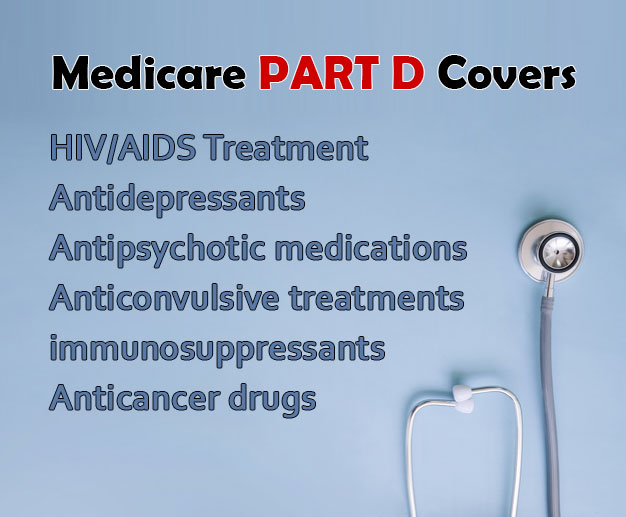 What does Medicare Part D cover?
Each Part D plan has a list of covered drugs called a formulary. If the drug you need is not on the formulary, you are allowed to request an exception, pay out of pocket, or file an appeal.
These formularies differ from plan to plan so be sure to request a copy. However, each plan must cover all drugs in the following categories:
HIV/AIDS treatment
Antidepressants
Antipsychotic medications
Anticonvulsive treatments for seizure disorders
Immunosuppressant's
Anticancer drugs (unless they are being covered under Part B)
Most vaccines are also covered under Part D unless they are already covered under Part B.
How much does Part D cost?
Monthly premiums and copay differ from plan to plan. However, as discussed earlier, each plan has a formulary that lists different drugs that are covered. So, the cheapest plan may not always be the best choice. Be sure to speak with a licensed Medicare agent that double checks the plan you are interested in will cover all of your drugs.
How do I enroll in prescription drug coverage?
You can only enroll in a Medicare Part D plan in the service area in which you live. So, you can do so through an insurance provider that is licensed in Medicare services. You can also enroll in Medicare Part D through Medicare's website. Some Medicare Advantage plans also include Part D coverage. Again, if this is how you would like to receive your prescription drug coverage, make sure it covers all the drugs you require.